WOOD VENEER TAMBOUR
Wood Veneers:
Veneer Tambour gives the look of solid, at a lower cost.


Items on this page are NOT recommended for Tambour Doors. (See

Tambour Doors & Tracks

).


Red Oak, Maple & Cherry are standard stock items,

W

alnut, white oak, mahogany, teak, ash, cherry, pine and many more. Veneer Tambours are pre-sanded and ready to finish.
*Real Wood Veneer is bonded to a medium density fiberboard or hardboard
*It is bonded to a flexible

cloth

backer
*Fire Rated Tambours are available by quote
*Wood Veneer Tambour should be sealed before installing on the ends as well as the face, thick p

ol

y finish is recommended.
*Custom Slat Widths are available by quotation.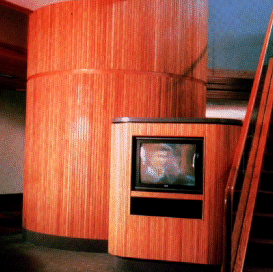 Any Tambour shown below can be made to your specific sizes by cutting and splicing Tambour pieces, than using a canvas/cloth material contact cemented on the back. Any non- stretchable cloth can be obtained at a fabric shop. You roll up the tambour to cut across the slats with a power saw, use utility knife to cut in-between the slats.



3/16 THICK X 1/2" SLAT WIDTH
4' WIDE SHEETS x 95" SLAT LENGTHS
30 DEGREE GROOVE - CLOTH BACKER

ALL 3-7 DAY LEAD TIME BEFORE SHIPPING
Shipped only (1) Sheet per box. APPROXIMATE Shipping cost is about $35.00/sheet. E-MAIL US for a quote.

PRODUCED AS ORDERED - NO RETURNS ON THIS PRODUCT
Type
Slat Length
Width
Part

1 to 2 pc
3 to 9 pc
9+ pc

Red Oak Rotary Sliced
9

5

"
48"
V100-801CG

-8

$126.90

$122.67

$118.44

Red Oak Plain Sliced
9

5

"
48"
V101-801

$164.75

$159.25

$153.76

White Birch


2 - 4 WEEK LEAD-TIME

9

5

"
48"
V102-801

$181.92

$175.86

$169.79

Walnut
Works for Airstream tm


2 - 4 WEEK LEAD-TIME

9

5

"
48"
V10

3

-801

$226.53

$218.98

$211.43

This item: (Walnut V-103-801) has been used for replacement of Airstream tm. Tambour Doors. They will fit in the original tracks if the backer is cut back. This is un-finished, real wood veneer. It must be cut, stained and pre-finished to match interior by the installer.
We do not carry the replacement tracks for Airstream tm.
White Ash


2 - 4 WEEK LEAD-TIME

9

5

"
48"
V104-801

$212.79

$205.70

$198.60

African

Mahogany


2 - 4 WEEK LEAD-TIME

9

5

"
48"
V106-801

$204.49

$196.63

$188.76

Maple
9

5

"
48"
V107-801

$169.76

$163.70

$157.64

Cherry
9

5

"
48"
V108-801

$192.21

$185.34

$178.48

White Oak


2 - 4 WEEK LEAD-TIME

9

5

"
48"
V109-801

$192.21

$185.34

$178.48

ALL 3-7 DAY LEAD TIME BEFORE SHIPPING


3/16 THICK X 3/4" SLAT WIDTH
4' WIDE SHEETS x 95" SLAT LENGTHS
30 DEGREE GROOVE - CLOTH BACKER
(1-1/2" wide also available in Red Oak only: E-MAIL US )

3-7 DAY LEAD TIME BEFORE SHIPPING
PRODUCED AS ORDERED - NO RETURNS ON THIS PRODUCT
Type
Slat Length
Width
Part#
1 to 2 pc
3 to 9 pc
9+ pc
Red Oak Rotary Sliced

95

"
48"
V100-802CG

-8

$126.90

$122.67

$118.44

Red Oak Plain Slice

95

"
48"
V101-802

$164.75

$159.25

$153.76

White Birch


2 - 4 WEEK LEAD-TIME

95

"
48"
V102-802

$181.89

$175.83

$169.76

Walnut


2 - 4 WEEK LEAD-TIME

95

"
48"
V103-802

$218.98

$211.43

$203.88

White Ash


2 - 4 WEEK LEAD-TIME

95

"
48"
V104-802

$212.79

$205.70

$198.60

African

Mahogany


2 - 4 WEEK LEAD TIME

95

"
48"
V106-802

$235.95

$228.09

$220.22

Maple

95

"
48"
V107-802

$175.83

$169.76

$163.70

Cherry

95

"
48"
V108-802

$199.07

$192.21

$185.34

White Oak


2 - 4 WEEK LEAD-TIME

95

"
48"
V109-802

$199.07

$192.21

$185.34

Special Orders:
E-Mail or Fax us your request for a custom Tambour Quote.
25pc minimums apply.
You can pick any combination of what you see above in any type of wood
(Over 65 Specie and Cuts of Veneers Available!!! 4-6 week lead-time).
NO RETURNS ON THIS PRODUCT UNLESS MFG DEFECTIVE